Why work with Tax Effective Accountants online?
We get it. There are a hundred things to do every day and for whatever reason, you simply can't get to your accountant's office to get your tax return sorted.
At Tax Effective Accountants, we've got you covered.
Combine the confidence of having an expert take care of your tax return with the convenience of not having to make an office visit. Whether you're at home, stuck late in the office or on-the-go, we'll do all the work.

1-on-1 with an expert tax accountant
Get your tax return prepared by a highly qualified tax accountant not an automated computer program. Receive the 1-on-1 personal attention you deserve.

Maximise your tax return
No more worrying about missing valuable tax deductions. Work with an expert who'll ask you all the right questions and find every deduction to maximise your tax return.

Minimise your ongoing income taxes
Discover tax planning opportunities, strategies and structures that you can implement to legally save tens of thousands in income taxes each year, moving forward.

Your personal data 100% secure
We've been doing tax returns online for years. Have the confidence in knowing your personal data is 100% safe and secure.

Painless online tax return process
There's nothing you need to learn, download or input. It's a simple online process. You make an appointment, attend your meeting online, and we'll take care of the rest.

Responsive, just like you want it
Eliminate the frustration of having an accountant who never gets back to you. We respond to all client queries within 24 hours, so you're never left wondering.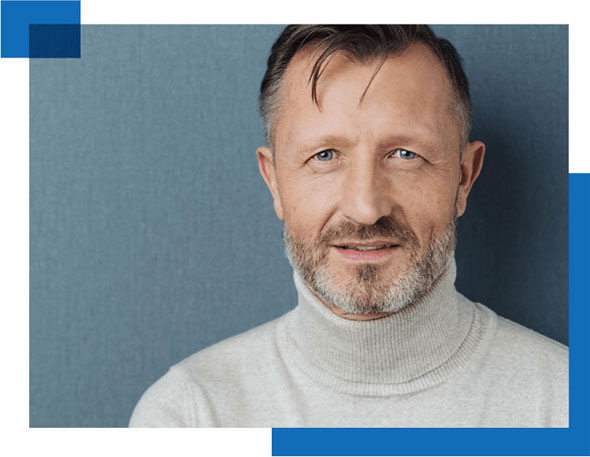 "What I like most about Tax Effective Accountants' online tax return service is not only how simple it was to get a good tax return, but also that the strategies they helped me implement have saved me an average of $31,263 in income tax per annum."
Michael, IT Consultant

Here's how easy our online tax return process works

Make an online appointment
Book an appointment time that's convenient for you. We're open from 8:00am to 8:00pm Monday to Friday and from 9:00am to 1:00pm on Saturdays (AEST).

Connect with your accountant online
Your Tax Effective accountant will get to know everything about your personal tax situation and provide you with an estimate on your tax return fee.

We'll prepare your tax return for you
We'll crunch the numbers and file your tax return with the Australian Taxation Office. Your tax refund will be directly debited into your nominated bank account.

Receive complementary tax advice
If you earn $150K+ a year, we'll analyse your data and identify potential tax strategies that can reduce your taxes even further. A complimentary online strategy session will then be arranged to discuss your options.
Who our online tax return service is ideal for?
Our clients range from busy professionals, executives and business owners to investors, pilots and medical professionals who typically earn $150,000+ per year.
We prepare all kinds of online tax returns, from individual to sole trader, company, family trust and self-managed super fund tax returns.
Get your tax return fully prepared & lodged by an expert tax accountant today!
When it comes to online tax returns, there's simply no comparison. Trust the team that ensures you receive the maximum tax refund while bundling complimentary tax advice that has legally saved our clients tens of thousands in taxes per annum.
Frequently asked questions about our online tax return service
How much do you charge for online tax returns?
Individual tax returns start from $199 and sole trader returns from $330. Entity, trust and self managed super tax returns and financial accounts are quoted separately.
What's included in my price?
Included in the price of your individual or sole trader tax return is a complimentary tax planning session valued at $395. Note that you have to earn a minimum of $150,000 to be eligible.
How are you different from any other online tax return service
There is a massive difference between our online tax return service and other online tax preparation services. Here is a simplified table to illustrate the difference.
Tax Effective Online
Other Online Services
Work with expert tax accountants
Work with an automated computer program
1-on-1 personalised meetings
Follow online prompts only
Takes the time to learn more about your specific circumstances
Relies heavily on what you know
Asks the right questions to catch all your tax deductions and to maximise your tax return
Program relies on standard default questions and you have to figure out all your eligibale tax deductions - which usually results in expensive tax return errors and unclaimed deductions
Below standard tax returns
Receive complimentary tax advice to reduce your ongoing taxes every year
No tax advice what-so-ever
Not cheap but reasonably priced. 100% tax deductible and worth every cent
Very cheap. Also 100% tax deductible, but you get exactly what you pay for in results
Ideal for busy people who want to get the maximum tax return and to implement strategies that can save them tens of thousands in taxes per annum
Suited for people who have lots of time on their hands and don't mind trying to figure out our complicated tax system so they can cut the cost associated with their tax return preparation
How long does it take to prepare my tax return?
This depends on the complexity of your return. In general, once we have all your information, your tax accountant will complete your tax return within 7 days.
How do I pay for my tax return?
We provide different payment options. You can choose what's best for you. You can choose to use your debit or credit card, or make an electronic funds transfer.
Who is my tax accountant and how do we interact?
You'll be assigned with a highly qualified tax accountant who will take the time to understand your personal tax situation and get you every deduction you're entitled to. You and you accountant will communicate by phone, email and online video.
What if I earn less than $150,000, can I still use your online service?
Yes, you can. However, your opportunity for additional tax planning may be limited. If we do see tax planning opportunities, we will advise you like we do for every other client.
Schedule your 1-on-1 online tax return consultation today.
Alternatively, reach out by your preferred contact option below to learn more.

Call 1300 399 829